Friday, April 28, 2006
The Power of Two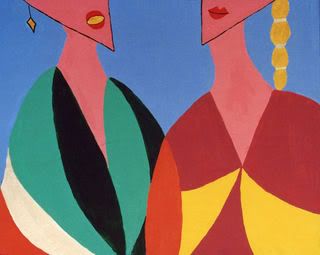 One woman, sitting alone in a café sipping coffee and typing at her laptop; no one speaks to her.

Three women chatting at a corner table in a dimly lit bar; no one disturbs their intimidating conversation.

One woman, sitting, standing, chatting, laughing, with one other woman, and their table is like a magnet pulling the force of twenty horny men. I call it, "the power of two".

When I arrived in DC two months ago, I was prepared to endure two months of loneliness. Loneliness was an emotion that I had become comfortable with when I lived in DC in 2003. But within a few days I had met Tatiana. And my spectacular friend March was throwing a lavish birthday celebration that gave me the perfect chance to invite her out.

March rented out the Blue Room. She hired a DJ and a photographer and she invited the most colorful, diverse and hip collection of DC peeps I had ever seen together in one room. It was almost like a New York party, but for the arrival of a gaggle of gate crashing frat boys wearing backwards caps and sporting Tevas. According to them, they were way too cool for this scene.

They decided to move on to a 'better bar' called "Chiefite" and threw an invitation our way.

But they wouldn't have spoken to me had I been hugging a Diet Coke, hanging out on the dance floor by myself. I have been that girl too many times in new cities and new places. They asked me because I was with my new DC BFF. And two women channeling Madonna on the dance floor, is just the right number. Not too pathetic looking, not too intimidating. Just right.

After their fine display of wedding reception moves, how could we resist observing their original interpretations of the shopping cart, sprinkler and lawn mower at the next venue. Besides, 80% of the men in the current bar were gay. Out for adventure and a little flirtation, we decided to follow.

Walking down the street alone on my way to the party; few heads swiveled to watch the sway of my hip. Walking down the street with Tati's arm locked in mine; boys whistled, men fell over themselves on the sidewalk, guys tried to catch our eyes, dudes walked up and started conversations.

Arriving at Cheifites, Tati and I danced some more. Men lined the dance floor to watch. Having a partner to play off of, made me groove a little deeper and sweat a lot more. The line of men just moved closer. We escaped before the lights came up, sweaty bodies meeting the chill of the DC spring night.

One woman, out for the night, meeting new people, dancing with strangers; replays her favorite moments of the night in her head as she walks home alone.

One woman, in the company of another fantastic woman, out for the night, meeting new people, dancing with each other; they lock arms and replay the evening between them as they walk each other home.

This is the kind of fun that doesn't happen sitting at home isolating.

I call it, "the power of two."
Labels: Pop Culture Casualty, Sober
posted by Pop Culture Casualty @
4/28/2006 12:48:00 AM
|