Thursday, May 24, 2007
"Single Anxious Females"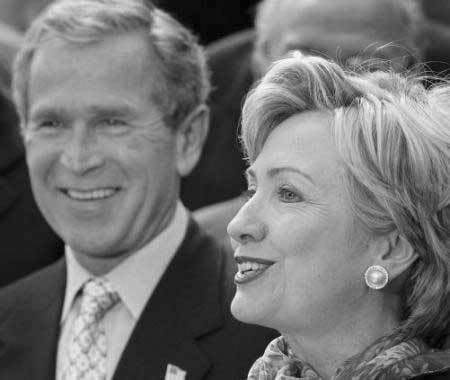 Our last presidential election recognized the power of the internet, will this election harness the power to pinpoint a specific demographic?

An interesting piece in New York magazine today identifies the '08 election power demographic as "Single Anxious Females".

"She's youngish (between 18 and 44), white (64%), unanchored (36% move every two years), unaffluent (earning $30,000 or less a year), relatively uneducated (only 14% are college grads), and thoroughly pissed off about the direction of America (Iraq, health care, equal pay, and education are top issues)."

Well look at that! This demographic description draws a similarity to the most frequent readers of "She" blogs. You know, blogs written by women for women that have been growing in numbers and intensity in the last few years. Not the typical political blogs like Wonkette, but the personal Chick Lit blogs like This Fish Needs a Bicycle or Belle in the Big Apple. These are the new battlegrounds for politics. So how long will it take for these "She" blogs to be exploited in the upcoming race for the White House?"

Infiltrating blogs with paid marketing messages is the next wave of subliminal advertising. What started with Reese's Pieces in the movie ET led to a major product placement industry in Hollywood. It followed naturally for marketers to begin their assault on the blogoshpere by getting away from paid advertising in exchange for
strategically placed puff pieces
and more obvious hawking of products and clients on blogs such as Perezhilton.com.

And who does Perezhilton.com appeal to with his five million hits a day?

She's youngish (between 18 and 44), white (64%), unanchored (36% move every two years), unaffluent (earning $30,000 or less a year), relatively uneducated (only 14% are college grads), and thoroughly pissed off about the direction of America (fashion, the ever-fluctuating weight of Nicole Ritchie, the latest sale at Barneys, which Hollywood hunk is Lindsay Lohan hooking up with and what happened last night on the American Idol finale are top issues).

If only Hilary Clinton, the Economist pick for the Democratic nomination, could be sexed up and packaged in a YouTube video link, pre-HTML coded for wide blog release, then perhaps the SAF demographic could be motivated to vote in the next election.

Hey, I'm just glad that young single women will finally be courted to get out and vote. And I can't wait to see what kind of tricks those marketing geniuses are hiding up their sleeves to capture the attention of SAF's everywhere.
Labels: New York Magazine, Pop Culture Casualty, Sober, Sober Politics
posted by Pop Culture Casualty @
5/24/2007 10:49:00 PM
|